Overview:
The Firm
Petros Consulting LLC helps clients create better business communications, both in print and online. Our clients dramatically improve
their written communications
to attract, nurture, and develop excellent customers, quality suppliers, committed employees, and long-term partners.
Our clients to turn to Petros Consulting for projects that include everything from tweets to full-length books and everything in between: articles, white papers, blogs, social-media promotions, websites, newsletters and much more.
Founded in 2002, Petros Consulting today works with a wide range of clients both large and small. Peter's many satisfied clients, both past and present, include:
Accenture
Bloom Group
CA Technologies
The Channel Co.
Dell Boomi
DXC Technology
The Economist Intelligence Unit
Intel
Masergy
McKinsey & Co.
Microsoft
MIT Technology Review
Nokia
SAP
Triangle Publishing
UBM Tech
Also, our clients' projects win industry awards, including the Min's Marketing Awards, Apex Award for Editorial Excellence, Folio: Eddies, and American Society of Business Press Editors awards.
Bio:
Peter Krass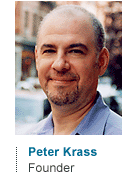 Founder and president of Petros Consulting
Peter brings more than 25 years of consulting, editorial and managerial experience to Petros Consulting's projects. Prior to forming Petros Consulting, Peter held top editorial management positions with Inc. magazine, PlanetIT.com, InformationWeek magazine, and the BusinessWeek newsletter group. He has also edited and written for numerous publications, including CFO, CSC World, Insurance Networking News, On Wall Street, TechIQ, Optimize, What Works in Consulting, Chief Marketer, and CSO.com. Peter was also the founding editor of the Tech Provider Zone, Business Compute Forum and TechBuilder websites, and of Smart Enterprise magazine.
Over the years, Peter has written and edited countless articles, newsletters, reports, and books. He has also managed virtual teams, worked on magazine redesigns, and helped plan and launch entirely new Web sites and newsletters. Peter is the author of a children's biography of Sojourner Truth, and he has won numerous awards and prizes, including a Computer Press Award and Cine Golden Eagle. Peter also teaches writing at The Writers Studio in New York, and he lives in Brooklyn's historic Park Slope neighborhood.